Description
Join us!
Are you a Director of Research and Development willing to participate in the growth story of Piceasoft? We are looking for a customer-oriented, experienced R&D Director to lead our development organization and help us keep growing.
Piceasoft R&D organization plays a key role in our journey to become the world's leading online solution provider to expand the lifecycle value of mobile devices and other CE electronics. At Piceasoft, you will work with an awesome organization on solutions you can be proud of.
If you're excited to be a part of our growth story and ready to take on a new career challenge, Piceasoft is a perfect place to get ahead.
We are looking for a Director of Research and Development to manage three internal, two external development teams and a testing team. The total size of development organization is around 35 people. You will take care of people management, ensure they are competent and motivated, build cross-functional development teams and take overall responsibility for the whole Research and Development. You ensure good collaboration between the teams, stakeholders, and customers and ensure successful product deliveries. You will be part of the Piceasoft management team and will report to the COO.
We value a strong background in software development and delivery process management, team leadership, and communication skills.
Key tasks:
Lead Piceasoft's whole Research and Development organization and coordinate internal resources for product deliveries. Ensure resource availability, allocation, and competencies.
Owner of SW delivery process and ensure that SW deliveries are delivered on time and within scope and quality.
Assist with the definition of SW architecture scope and objectives, involving all relevant stakeholders and ensuring technical feasibility.
Identify and help to remove any blockers preventing the teams from achieving their goals.
Track development performance.
Collaborate with customers to consult with the deployment of products and understand their needs.
Develop team talents.
What do we expect from you?
Earlier experience from leading development organization with external development partners
Understanding of business environment and online technologies (e.g. React, Angular, databases, AWS and Azure DevOps, native iOS and Android)
Customer-first approach mindset
Proactive approach, individual initiative, and personal accountability
Excellent presentation, communication, and negotiation skills, with capabilities to empower, influence, engage and inspire stakeholders, a coaching mindset
Strong experience in software development, especially SaaS solutions and mobile application development
Experience with Scrum (or other agile software development) processes
Seniority level: Senior (at least 5 years of experience)
Strong familiarity with project management software tools and best practice
What we offer:
We offer you an organization with talented colleagues in a high-tech growth company. We value an open, flexible, and collaborative culture. We believe in continuous improvement and will support you in developing your skills. We also offer you comprehensive health care and health insurance, telephone, and lunch benefits. Our office is in downtown Tampere. We have flexible working hours and the possibility to work remotely abroad.
How to apply:
If you have any questions about the role or Piceasoft, contact our COO Kari Ketola (phone +358 503391753). You can also send your questions by email to our COO  kari.ketola@piceasoft.com  or to our Finance & People Director pauliina.liuhala@piceasoft.com.
If you want to join into Piceasoft growth story, submit your job application: Director of R&D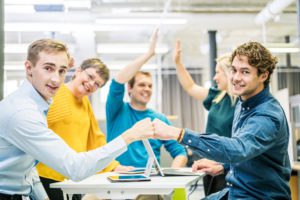 Apply for the Director of Research and Development here