In today's digital world, data is an essential ingredient for insights to improve performance and drive greater value for a mobile device lifecycle business. Piceasoft provides solutions that enable customers to optimize their mobile device lifecycle services.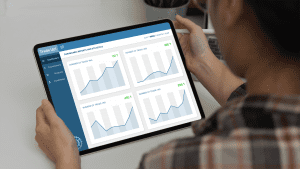 Picea® Services Reporting API is an interface for fetching real-time data from mobile device lifecycle services that run on Piceasoft's platform. The Reporting API is available to all PiceaServices customers.
The well-documented API is easy and straightforward to integrate and enables passing all mobile device details and device service data into customers' chosen business applications, such as Enterprise Resource Planning (ERP) or Warehouse Management Systems (WMS).
By leveraging PiceaServices Reporting API customers can properly assess and improve their business performance and unlock the following benefits:
Real-time follow-up of all mobile device services
Create customized reports and dashboards to match your business needs
Get data from mobile device operations into your business solutions
Get more information from consumers and consumers' mobiles for optimized and personalized offerings
Optimize processes in the value chain
Trade-in use case examples that benefit from PiceaServices API
There are numerous use cases where a mobile device lifecycle business can benefit from access to data via PiceaReporting API. Data-driven insights can provide value in the following mobile device trade-in scenarios:
Operators and retailers can follow how their mobile device trade-in campaigns are performing, e.g.
How many consumers have discovered, started, and accepted the trade-in offer using mobile?
How many consumers completed the trade-in transaction in-store or online?
Which trade-in campaign is performing best?
Trade-in vendors get a better understanding of incoming trade-in devices allowing them to resell devices faster and optimize spare part orders, e.g.
How many trade-in deals are accepted by consumers using mobile or at the point of sale?
How many devices are coming in, when and from where?
Which device models have been traded?
What is the condition of the incoming devices?
Which components should be ordered in advance to fix these devices?
Customers interested in deploying PiceaServices Reporting API can fill in the demo request form or contact their Piceasoft representative through sales@piceasoft.com for more information.
To learn more visit:
LinkedIn: www.linkedin.com/company/piceasoft
Twitter: www.twitter.com/piceasoft
About Piceasoft Ltd
Piceasoft is a Finnish company, located in Tampere. Since it was founded in 2012, Piceasoft has created a unique set of software solutions to cover the whole lifecycle of mobile devices. These solutions create new business opportunities and enable a cost-efficient service for mobile operators and retail chains. Our innovative products are disrupting mobile device buyback, repair, and recycling business. Our software products are easy to use and offer added value to the end-user, which means better ROI and user satisfaction. In short, we promise to Simplify Your Mobile Life.