Consumer buying behavior has changed, and more and more consumers buy online. The trend will likely continue as consumers expect seamless and convenient experiences across channels.
Consequently, e-commerce has become an increasingly essential option for businesses. In 2021 the consumer electronics e-commerce industry worldwide was valued at 344 billion U.S. dollars and is forecasted to exceed the 860 billion dollars by 2030.
81% of shoppers are said to research their products online before shopping. A seamless and convenient user experience is essential in earning customer trust and driving conversion whether you are selling online or want to increase foot traffic in your retail stores. But how do you accelerate online sales, build customer loyalty, and convert e-commerce website visits into purchases?
One option is to offer trade-in services for users buying new smartphones and other consumer electronic devices. Trade-in provides an affordable way to purchase new devices and gives a new life to an old device in a sustainable manner. For businesses, it is a primary source of supply for second-hand devices.
Drive online sales with trade-in
Picea® Online is an all-in-one platform for businesses to offer trade-in, insurance, and support & repair services for mobile and other consumer electronic devices. With PiceaOnline, you can introduce and optimize trade-in services in your stores and add a trade-in service to your e-commerce site using the same platform.
PiceaOnline includes an e-commerce plugin that allows you to launch a trade-in service in less than 24 hours. For consumers, it provides an instant and reliable offer for a discount towards purchasing a new device and can help convert your online visitors into buyers.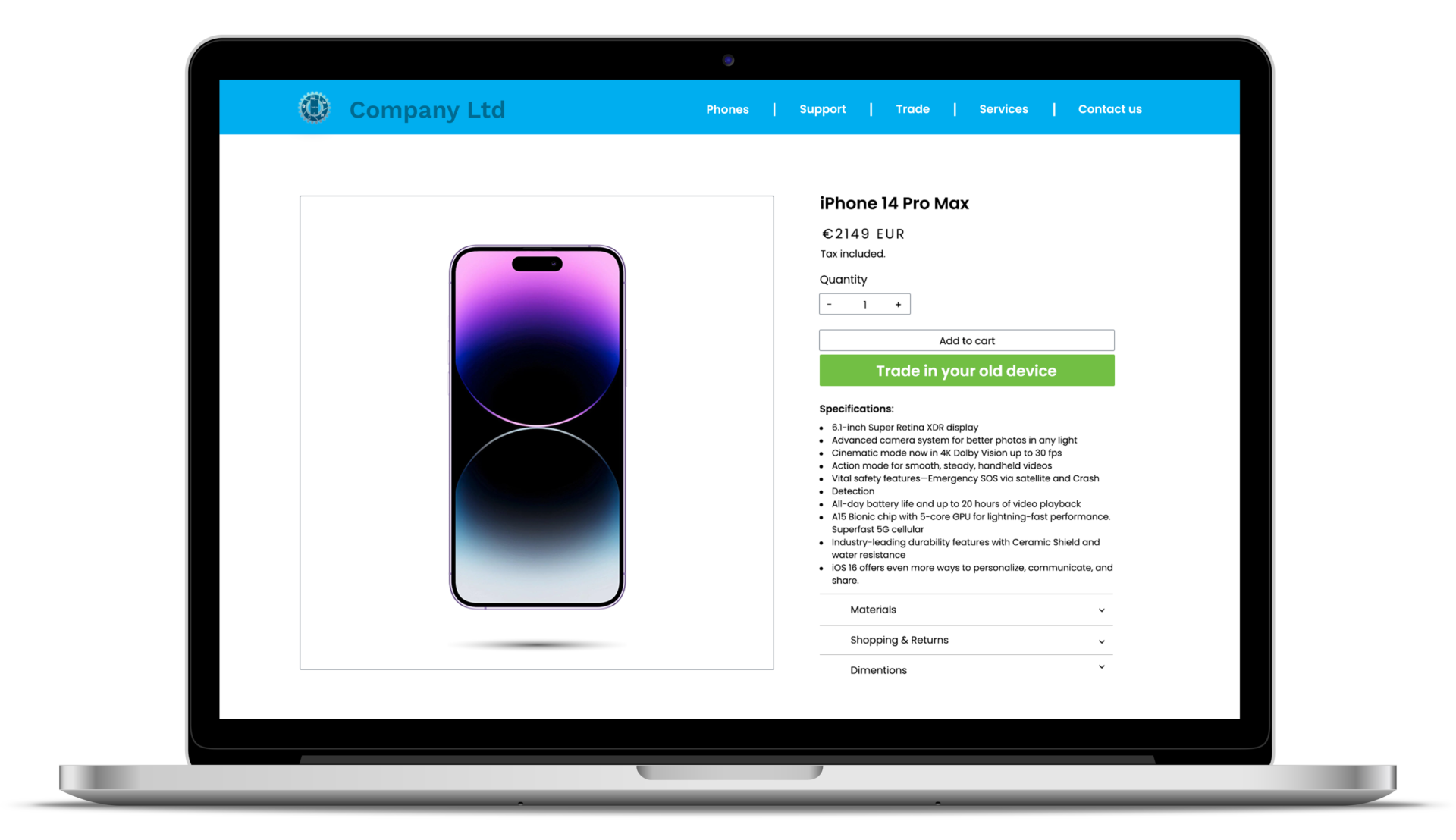 Transform your online business in less than a day
PiceaOnline comes with a ready-to-deploy plugin to launch your trade-in service. You get complete control to design, create and customize the online trade-in experience.
With 24/7 real-time access to the configuration tool, you can easily define the online service experience according to your business needs. To ensure a consistent brand experience for consumers, you can customize the branding elements, such as fonts, colors, and logos of the e-commerce plugin UI. This builds trust and a positive image in the customer's mind and helps drive trade-in conversion.
You can choose which mobile and consumer electronic devices can be traded online and which additional services you want to offer consumers.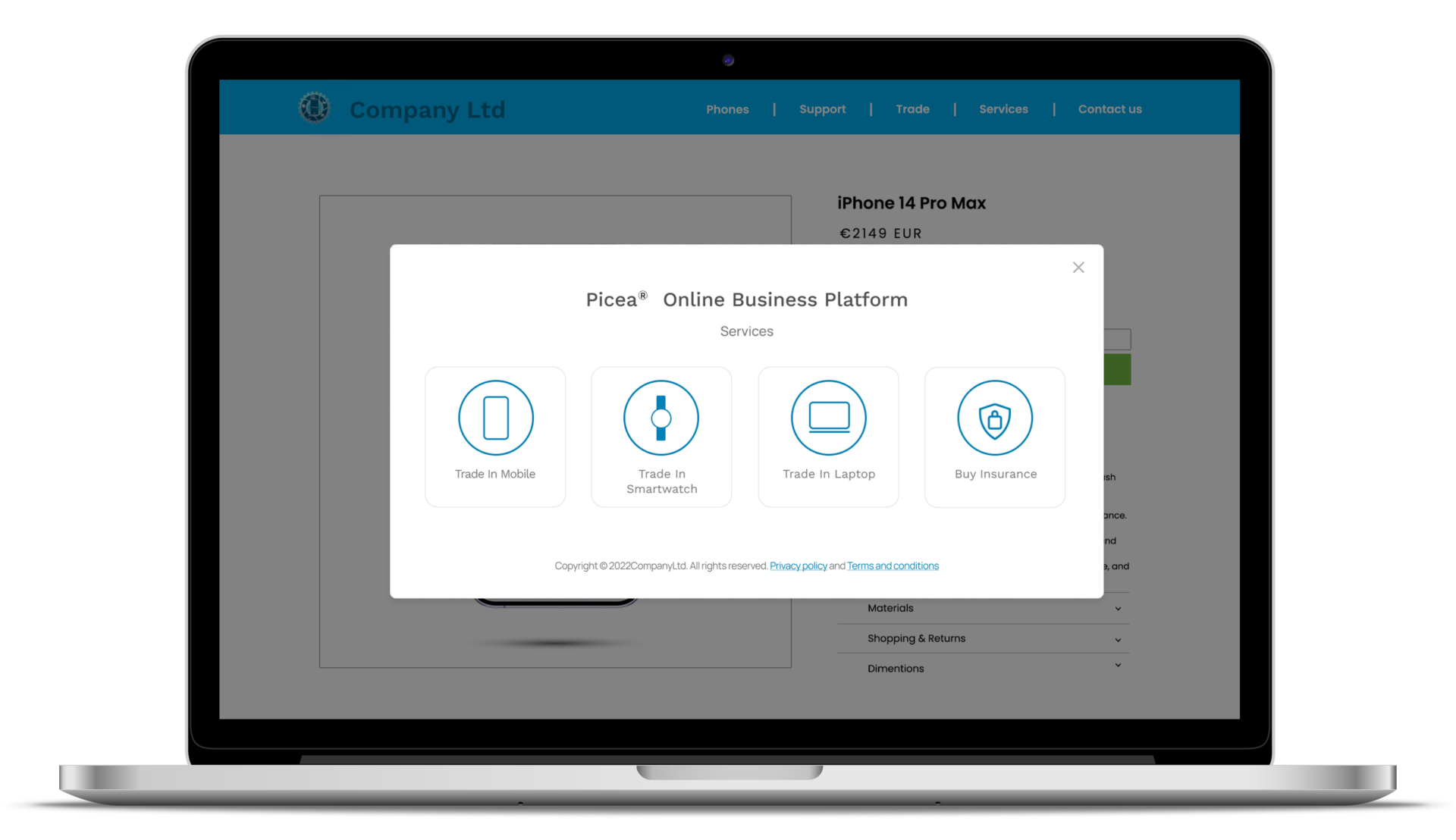 Offer instant and guaranteed trade-in offer to drive conversion
The trade-in service provides automatic device model detection using artificial intelligence (AI) and automated device condition analysis.  Once consumers start trading their device online, the device make and model (MMR) is immediately recognized, and consumers are instantly offered the best trade-in price.
The device condition is checked with automatic diagnostics and AI to determine the final and accurate trade-in value. This reduces variance in the trade-in process and increases trust. The trade-in prices can be offered from your pricing catalog or through our trade-in partner ecosystem.
Providing additional benefits for consumers with branded device-specific campaigns can further influence their purchase decision.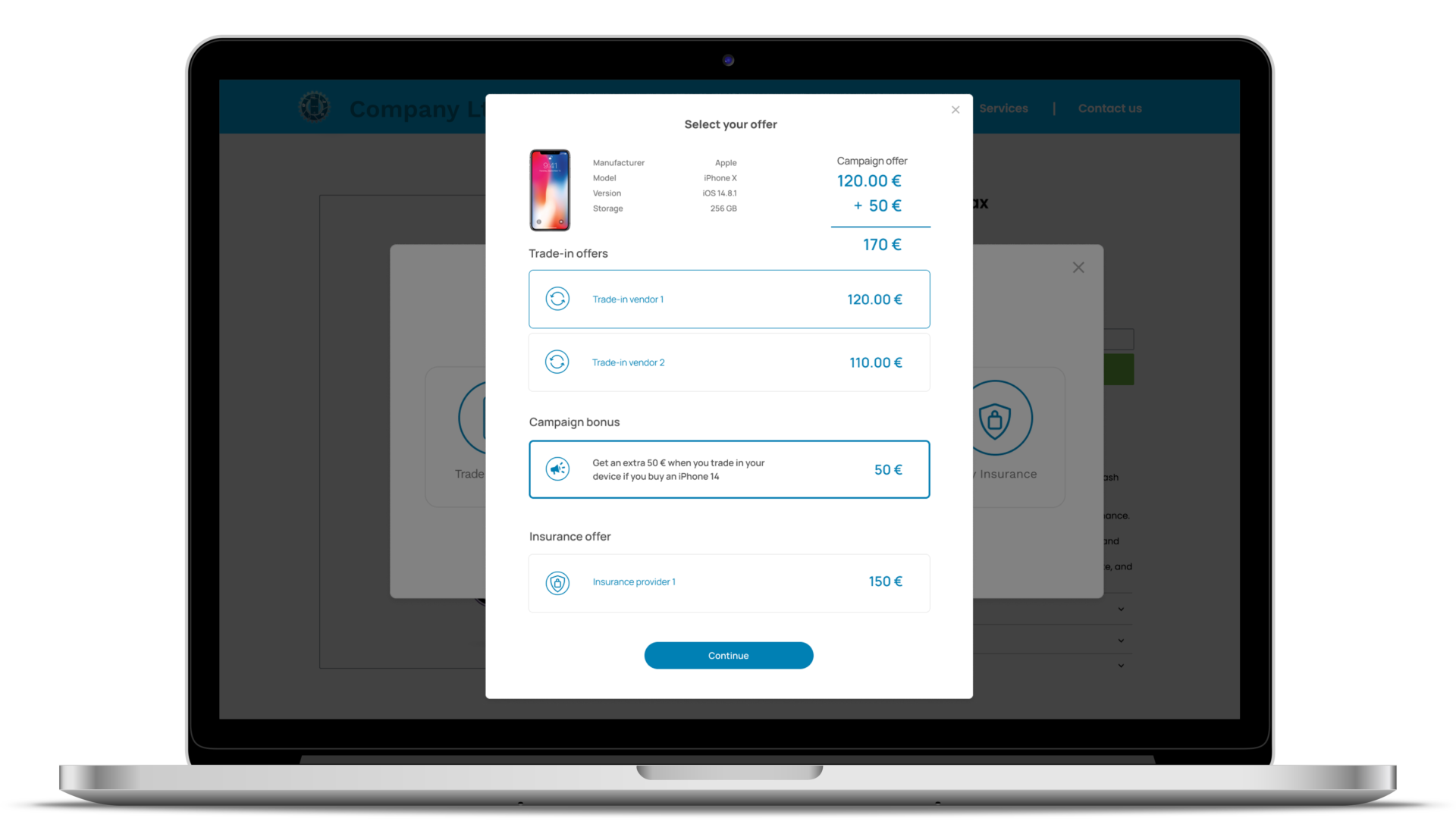 Boosting your online device sales has never been easier! With PiceaOnline, you can quickly unlock the value of trade-in service on your e-commerce site and gain the following benefits:
Quickly create new services and revenue streams
Increase efficiency and save the time of your development team
Launch your service within 24 hours – no coding required.
Increase convenience for consumers with automatic device detection
Reduce human error and grading variance with automated, AI-based device diagnostics
Offer consumers the best trade-in price through multiple trade-in vendor partnerships
Complement trade-in offers with additional device-specific or other branded campaigns
Brand the e-commerce plugin UI to ensure a consistent brand experience
Easily promote online trade-in opportunities to drive online device sales or increase footprint in your stores (e.g., Click & Collect)
Great online trade-in experience drives customer satisfaction & loyalty, increases conversion rate, and helps to improve your bottom line. Online trade-in also offers numerous digital marketing opportunities to promote your service, boost brand awareness, and engage consumers in a sustainable manner.
To discover more about how PiceaOnline can benefit your online business and generate new revenue streams, visit the PiceaOnline page and book a demo to see how we can help your business grow.
About Piceasoft
Located in Tampere, Finland, and founded in 2012, Piceasoft creates new and scalable business opportunities within the mobile and consumer electronics circular economy. Our ever-expanding platform and ecosystem powers companies at all levels to offer trade-in, insurance, repair, and recycling services in less than 24 hours. Working with customers and partners in over 70 countries, our AI-driven platform provides a single solution for businesses to introduce new services and revenue streams while reducing e-waste and promoting sustainability.