We are excited to introduce Dario Lorenzi, a Piceasoft partner since 2015, who has been representing Picea® Services solutions in Italy and Spain. Nowadays, Dario manages Piceasoft South Europe and is responsible for local business operations including customer support, sales, and marketing in Italy, Spain, and Portugal under the Piceasoft brand.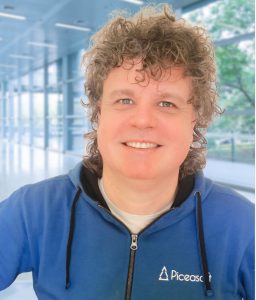 Q: Tell us a bit about your background and your role at Piceasoft?
I have a Master's degree in Psychology but have always loved new innovations, technology, and gadgets. After I finished my studies, I have gained a lot of hands-on experience from different industries and various functional areas of business. Throughout the years I have built franchise networks, owned, and managed many companies and learned that the same underlying principles of business apply regardless of the industry you are in.
Following the first years of successful co-operation with Piceasoft, I'm now managing our regional Piceasoft office for Southern European markets. We know our local customers across the region, so our strength is on the business side of customer relationships. Our headquarters in Finland has the best team of software developers. We talk with our customers about their needs and bring their voices into our R&D teams and vice versa. Together we make a great team that perfectly complements each other.
Q: You have been active in selling Piceasoft's OnTheFly products, tell us more about your interest in digital solutions.  
Our OnTheFly solutions are disrupting the future. These solutions offer our customers the ability to use our core technology to develop their own customized solutions and provide seamless service experience also online.
It is not always easy to be the first on the market to develop new solutions, but it is important to get learnings quickly and improve along the way. Sometimes it can be also challenging to help clients to identify new service opportunities and have them see the benefits of emerging technologies.
There is a famous quote by Reid Hoffman, the co-founder of LinkedIn, which really resonates with me. "If you are not embarrassed by the first version of your product, you've launched too late". It takes an effort to be among early adopters, but if you always do the same as everyone else, you do not differentiate on the market and probably don't make money.
Q: How in practice have you helped your customers to develop solutions around OntheFly?   
In addition to available documentation and guidelines, we have organized developer camps for our customers to learn about our offering and help to get started with development. These sessions include theoretical background and hands-on training on available Piceasoft tools and aims to speed up the implementation of OnTheFly services. The feedback has been positive so we will continue to organize these events as required.
Q: What's your favorite application in PiceaServices?
My favorite application is PiceaReporting. As Lord Kelvin, also known as William Thompson, said: "If you cannot measure it, you cannot improve it". It does not make sense to introduce any service without the ability to monitor and get fact-based insights for improvements to continuously respond better to customer needs. Luckily, we have also put more emphasis on data and expanded our offering in this area with the new PiceaServices Data product family.
 Q: How do you like to spend your time when you are not in the office?
I am a technology enthusiast who also loves cooking and experimenting with new culinary ideas.  One of my favorite ways to spend time outdoors is to go snowboarding or watch sports. In the evenings you might find me in front of a chessboard.
To get in contact with Dario, connect with him on LinkedIn, or drop an email to dario.lorenzi(at)piceasoft.com.
To learn more visit:
Website: www.piceasoft.com
LinkedIn: https://www.linkedin.com/company/piceasoft
Twitter: https://twitter.com/piceasoft
About Piceasoft Ltd
Piceasoft is a Finnish company, located in Tampere. Since it was founded in 2012, Piceasoft has created a unique set of software solutions to cover the whole lifecycle of mobile devices. These solutions create new business opportunities and enable a cost-efficient service for mobile operators and retail chains. Our innovative products are disrupting mobile device buyback, repair, and recycling business. Our software products are easy to use and offer added value to the end-user, which means better ROI and user satisfaction. In short, we promise to Simplify Your Mobile Life.