The new PiceaOnline ecosystem consolidates Piceasoft's solutions into one AI-driven business platform, expanding the support from mobiles to other high-value consumer electronic devices.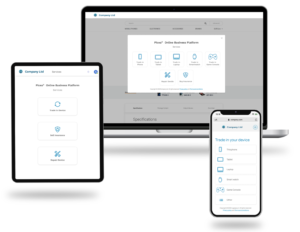 Piceasoft, Europe's leading provider of mobile device lifecycle software solutions, announces its new PiceaOnline business platform that allows organizations to offer trade-in, insurance, recycling, and support & repair services for mobiles and other consumer electronic devices.
Optimized for mobile operators, electronic retailers, e-commerce, repair, insurance, and trade-in vendors, the new platform provides a single solution to extend the lifecycle of mobile devices, smartwatches, laptops, tablets, and game consoles – helping to reduce the environmental impact of consumer electronic products. 
PiceaOnline merges Piceasoft's mobile device lifecycle management technology, artificial intelligence-driven innovations, and consumer-facing services into one web-based solution. It offers a superior user experience to drive new sustainable business opportunities and operational excellence across multiple channels. 
PiceaOnline customers connect to the circular business through platform partnerships and benefit from a constantly growing ecosystem. It is the only solution that combines AI, device diagnostics, and business process creation. 
"We can proudly launch a new era for online-based platforms of the circular economy for consumer electronics. The platform provides a new way to use artificial intelligence to identify the device, determine its condition, and create business processes for the service.", says Kari Ketola, Piceasoft COO.
"The response from our customers to PiceaOnline has been incredibly positive. The world is moving cloud-native, and we understand our customers' challenges with the complexity of managing different tools for various services. Therefore, we are very excited to introduce PiceaOnline, which offers a unified experience and simplicity, yet versatility and flexibility to meet today's needs of businesses to manage new services independently. PiceaOnline will enhance Piceasoft's position as the chosen operating system for the circular economy.", says Mikko Pyykkö, Piceasoft CEO.
To discover more about how PiceaOnline can benefit your business and generate new revenue streams, visit the PiceaOnline page and book a demo.
For more information, contact:

Mikko Pyykkö, CEO, Piceasoft
mikko.pyykko@piceasoft.com
Mobile: + 358 50 3563110
About Piceasoft 
Located in Tampere, Finland, and founded in 2012, Piceasoft creates new and scalable business opportunities within the mobile and consumer electronics circular economy. Our ever-expanding platform and ecosystem powers companies at all levels to offer trade-in, insurance, repair, and recycling services in less than 24 hours. Working with customers and partners in over 70 countries, our AI-driven platform provides a single solution for businesses to introduce new services and revenue streams, while reducing e-waste and promoting sustainability.