Mobile devices, such as smartphones and tablets, often store a wealth of personal data. With rising concerns over data privacy, many users are hesitant to trade in, repair, or recycle their old devices. These concerns emphasize the need to prioritize data security and privacy mitigation when handling used mobile devices in trade-in, customer support, reselling, refurbishing, and recycling operations.
As a service provider, establishing trust is crucial for your business and customers. In addition, you want to ensure compliance with EU GDPR and U.S. data privacy laws and regulations. Piceasoft's solutions empower you to securely manage the trade-in, reuse, resale, or disposal of mobile devices, ensuring that no sensitive data falls into the wrong hands.
Piceasoft's data-erasing technology is ADISA-certified across all of its platforms:
By adhering to industry-leading standards, Piceasoft ensures that all devices can be safely traded in, sent for repair, or recycled, providing both businesses and consumers peace of mind.
Secure Data Erasure at the Point of Sale
As more and more mobile devices are traded at point-of-sale locations, it is critical to not only facilitate content transfer to new devices but also to securely erase data from old ones. This is particularly important in light of data privacy regulations such as the U.S. Federal Trade Commission (FTC) guidelines, the California Consumer Privacy Act (CCPA), and the EU's GDPR, which all aim to protect consumer data privacy and promote responsible data handling practices.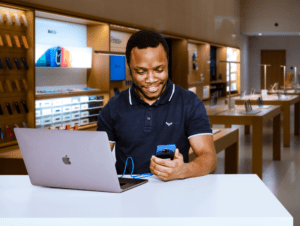 Picea® Online: Your All-in-One Business Platform
Picea® Online is a comprehensive platform enabling businesses to offer mobile device trade-in, support, and repair services. With PiceaOnline, the ADISA-certified content erasure can be used anytime as part of the service workflow for mobile device trade-in or other services when needed in a retail environment.
This adaptable platform allows you to:
Customize service experiences to match your business goals
Ensure secure content erasing during mobile device transactions and trade-in services.
Perform a dedicated workflow for mobile device data sanitization only when it is the only service required.
Picea® Services Eraser: Dedicated Application for Secure Content Wipe
PiceaServices application for point-of-sale allows you to offer value-added services to your customers. This modular software-only solution includes Picea® Eraser, an ADISA-certified mobile data erasure solution that can be used to reliably and permanently erase all sensitive data from mobile devices.
PiceaServices erasing capability can be utilized in connection with trade-in services before reselling the device, securely erasing content from loan devices, and when a device is handed off for recycling.
Advanced Security Features
To maximize the resale value of mobile devices, it's essential to ensure they are fully unlocked, free of active user accounts, and properly wiped of any personal data. Apart from secure content erasing, Piceasoft's solutions also help check and detect mobile device locks and accounts, and against GSMA Device Check™ if the device is stolen or lost.
It is also possible to select and utilize optimal data sanitization methods for Android and iOS/iPadOS platforms, streamlining the process for your sales personnel.
Ensuring Peace of Mind for All Parties
Whether PiceaOnline or PiceaEraser is being used, a complete audit trail for data erasure is available via reporting. Both consumers and businesses benefit from:
Detailed erasure reports, providing proof of secure data deletion for the consumer
A complete audit trail through reporting, enabling sales staff to track historical data related to erasure operations
Get Started
Join hundreds of businesses who already benefit from our solutions!
Erasing content simultaneously from multiple devices
PiceaOnline and PiceaServices are consumer-facing solutions for both retail stores and repair shops. Typically, devices traded in or recycled at the point of sale end up at a recycling facility, where they are refurbished or recycled depending on the device's condition.
Warehouse and Recycling Facility Support
Before devices reach the recycling facility, the recycler can access the detailed device history—including make-model recognition, diagnostics results, and data sanitization records— through cloud-based reporting.
This multi-layered approach ensures that businesses and consumers can trust the platform for data privacy and security.
Picea® Volume: Efficient Processing of Multiple Devices
Picea® Volume is designed for businesses and recycling centres that handle a high volume of mobile devices. Offering a range of features, from device verification and diagnostics to data sanitization, this platform is a one-stop solution for streamlining mobile device refurbishing and recycling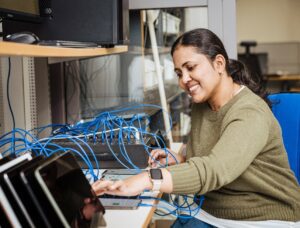 Piceasoft's erasing technology is also available as part of PiceaVolume for customers processing a large number of devices. Volume performs verification, i.e., make-model-recognition, device diagnostics for condition analysis, and safe device data erasure using a streamlined process with efficiency and speed.
Any device locks and accounts are detected at the beginning of the mobile device handling process. Additionally, devices can be checked against GSMA Device Check™ that they are not stolen or lost.
Centralized Workflow Management
Recycling center managers or admins can centrally manage and customize workflows and erasing methods from a single workstation using the Product Management Console (PMC). Volume users can select and optimize each processing scenario from these pre-defined configurations. This makes device processing tasks faster and easier.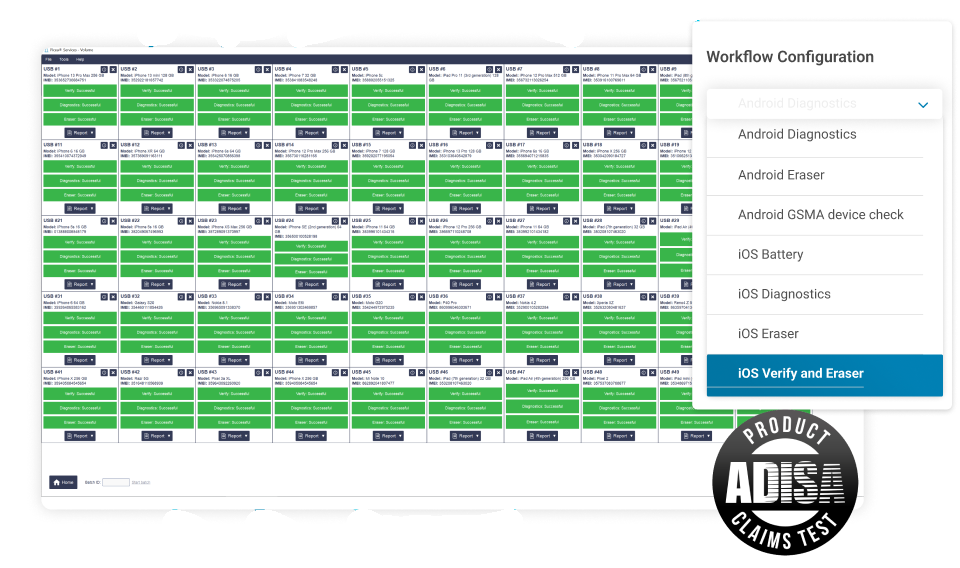 The full audit trail is available through reporting containing information on device make-mode recognition, device diagnostics, and secure content erasing.
With the PiceaServices Volume, it is possible to erase 250 Android and 500 iOS devices per hour with one PC, improving workflow efficiency and achieving cost savings.
Secure Content Erasing with ADISA-Certified Software
ADISA certification means that Piceasoft's erasing technology in PiceaOnline, PiceaServices Eraser (PiceaEraser), and PiceaVolume has successfully passed the ADISA Product Claims Test process for mobile erasure, ensuring that solutions erase data beyond forensic recovery equivalent to ADISA test level 1. ADISA is an accreditation body specializing in risk management and data protection within asset retirement.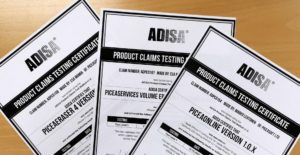 Piceasoft's customers can have peace of mind and confidence that the company continuously meets the highest industry standards and best practices for data erasure.
Are you interested in deploying secure content erasing at the point of sale? Or is your business processing a large number of devices at the same time? We offer you a fully functional trial of our products for free so that you can try them yourself.
Fill in this form to get started, describe your requirement, and we'll get back with the best solution for your needs.
Link to ADISA certification of PiceaOnline: https://adisarc.com/wp-content/uploads/2022/10/ADISA_Piceasoft_ADPC0154.pdf
Link to the ADISA certification of PiceaServices Eraser: https://adisarc.com/wp-content/uploads/2021/04/ADISA_Piceasoft_ADPC0108.pdf
Link to the ADISA certification of PiceaVolume: https://adisarc.com/wp-content/uploads/2021/04/ADISA_Piceasoft_ADPC0107-1.pdf
About Piceasoft Ltd
Located in Tampere, Finland, and founded in 2012, Piceasoft creates new and scalable business opportunities within the mobile and consumer electronics circular economy. Our ever-expanding platform and ecosystem powers companies at all levels to offer trade-in, insurance, repair, and recycling services in less than 24 hours. Working with customers and partners in over 70 countries, our AI-driven platform provides a single solution for businesses to introduce new services and revenue streams while reducing e-waste and promoting sustainability.