The success of trade-in programs continues to boost the second-hand smartphone market. IDC forecasts the shipments of used and refurbished smartphones to rise from 283 million in 2022 to 413 million in 2026, with a compound annual growth rate (CAGR) of 10.3% from 2021 to 2026.
Mobile device trade-in vendors typically purchase used mobile devices from customers, refurbish them, and resell them through various offline and online channels. In addition, trade-in vendors may offer white-label trade-in programs to other businesses, like mobile network operators and electronic retailers, or act as an intermediary between consumers and companies that buy used devices.
Regardless of their business model, the Picea® Online platform offers a market-proven off-the-shelf solution for trade-in vendors to capitalize on the growing second-hand market and quickly start and scale their business.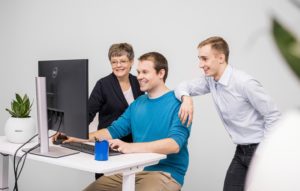 One platform to manage trade-in business
Picea® Online enables trade-in vendors to manage trade-in services for multiple business customers through the same platform. Trade-in services can be offered via one platform across all channels; point of sale, mobile, and e-commerce sites. This increases the service visibility and the likelihood of trade-ins allowing businesses to capture a larger audience.
Trade-in vendors can utilize the PiceaOnline configuration tool to create B2C and B2B trade-in services. With the PiceaOnline configuration tool, they can optimize services independently, tailoring them to meet the unique business requirements of each customer. With 24/7 access, they have complete control to manage the customer base, customer organizational structure, user accounts, pricing catalogs, device campaigns, service branding, and trade-in service experiences across all channels.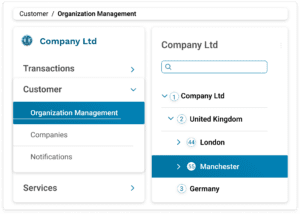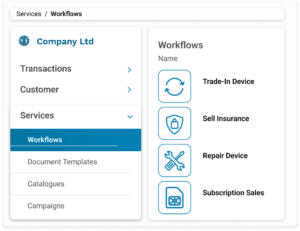 When the trade-in services are centrally managed, the vendor can ensure service consistency in all touchpoints. Delivering trade-in services consistently helps to enhance efficiency, cultivate trust among consumers by decreasing grading variance, and elevate the overall quality of the customer experience.
Define trade-in services according to business needs
Picea® Online offers flexibility and improved efficiency, enabling vendors to adjust the trade-in services dynamically. Through the platform, it is possible to define the complete trade-in experience, set clear criteria for grading devices, and provide consistent and fair assessments of device conditions. The service experience can also be branded for each customer.
The trade-in vendor can use any grading system to evaluate the condition of a used mobile device, which ultimately determines its value. The PiceaOnline platform offers many features to customize and adjust the trade-in process, making the service experience convenient and easy for retail staff at the point of sale and consumers to trade devices remotely.
Reduce grading variance with AI-based device identification & grading
Ensuring consistent grading of mobile devices helps to provide accurate and fair trade-in values for customers. This builds trust in the trade-in process and the service provider, increasing customer satisfaction and loyalty.
When a mobile device is traded remotely or in-store, make and model recognition is often the first step to determining what the device is worth. The PiceaOnline platform provides AI-based device identification to get all device MMR details that eliminate human error, ensuring accurate pricing and a seamless trade-in process. It also helps increase convenience for the consumer or sales personnel, who do not need to know and enter the device details manually.
The trade-in price can be further validated with objective and configurable device condition tests. AI-based device grading automatically detects any cracks and scratches on the device. This further lowers the grading variance and ensures a fair and accurate trade-in value for the device.
Create consumer trust with a transparent trade-in process and guaranteed price promise
Consumers place a high value on service experiences that are easy, convenient, and trustworthy. Complete transparency throughout the end-to-end trade-in process can eliminate surprises and ensure customer satisfaction.
PiceaOnline offers a trade-in service that enables service providers, operators, and retailers to make a guaranteed price promise to consumers. This promise demonstrates a commitment to fairness, honesty, and transparency in the trade-in process, building trust and encouraging customer loyalty.
To maintain this trust, price reductions during the trade-in process should be based on an accurate analysis of the device's condition and be clearly explained to the consumer. By doing so, customers will feel more confident and likely to trust the service provider.
Offer the best trade-in price & boost conversions with campaigns
The trade-in service can be offered through various channels, such as mobile, e-commerce sites, or point-of-sale channels. The trade-in prices can be obtained directly from the vendor's pricing catalog. The platform also allows for a multivendor pricing model, allowing consumers to receive the best trade-in offer from multiple vendors.
Device model-specific campaigns can be offered to encourage consumers to trade in their old devices for specific device models. This strategy can significantly increase trade-in conversions and motivate consumers to exchange their old devices for an advanced model. More completed trade-in transactions increase trade-in device supply and profit from all channels.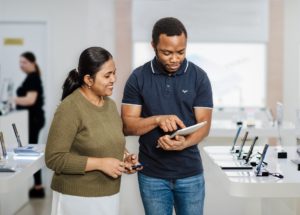 Ensure only eligible devices are traded in
Trade-in programs are essential in supplying the second-hand market with used mobile devices. The specific models that are in demand depend on the vendor and the market, but in general, trade-in vendors are looking for devices that are still popular and have a high resale value.
Using PiceaOnline, trade-in vendors can trust that only eligible devices with resale value are traded in. PiceaOnline helps to detect locked, blacklisted, and fake devices. The devices undergo pre-defined device condition checks and the removal of user accounts and locks at the point of sale or before the device is shipped.
Improve your trade-in business with data
When trade-in programs are managed through the PiceaOnline platform, trade-in vendors can get a real-time view of the full transaction details through the PiceaOnline reporting. The data can also be fetched to trade-in vendors' business systems using available APIs.
Full transparency helps to follow up on trade-in transactions and analyze if anything in the process should be streamlined or improved. The visibility of incoming trade-in devices can also help resell devices faster and order required spare parts on time.
Optimize your trade-in business with Piceasoft
Trade-in vendors can immediately begin offering trade-in services for customers with the PiceaOnline platform. By utilizing an innovative off-the-shelf platform, vendors can save time and money that would otherwise be spent on building and maintaining their solutions. Thanks to PiceaOnline, expanding the business to new customers, services, and markets is easy.
Piceasoft has established a strong presence in the operator and consumer electronics retail markets through its solutions. Its current market position, customer base, and platform capabilities make it an attractive option for trade-in vendors to connect and benefit from Piceasoft's trade-in business ecosystem.
If your business is interested in joining the ever-growing PiceaOnline platform and ecosystem, fill in the Demo Request form to contact us for more information and to see a live demo.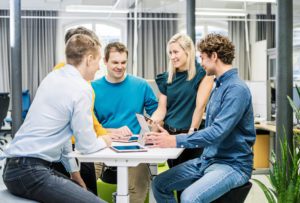 About Piceasoft
Located in Tampere, Finland, and founded in 2012, Piceasoft creates new and scalable business opportunities within the mobile and consumer electronics circular economy. Our ever-expanding platform and ecosystem powers companies at all levels to offer trade-in, insurance, repair, and recycling services in less than 24 hours. Working with customers and partners in over 70 countries, our AI-driven platform provides a single solution for businesses to introduce new services and revenue streams while reducing e-waste and promoting sustainability.