Mobile devices play a crucial role in consumers' lives. Several factors shape users' decisions to prolong the lifespan of their devices and opt for repairs instead of purchasing new ones. These factors include environmental consciousness, financial considerations, and the availability and affordability of repair services.
Regardless of the underlying motivation, consumers seek prompt and convenient repair services for their devices.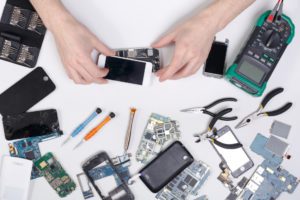 Expectations for the repair service
Mobile device repair companies consistently strive to enhance the overall consumer experience across various touchpoints and repair scenarios. In the initial stages, like point-of-sale or repair points, consumers value quick repairs, technical expertise, and effective communication in customer service.
Since frontline staff may lack technical expertise, user-friendly tools are essential for mobile device issue identification and justification for repair. When more advanced repairs are needed, it becomes necessary to involve repair workshops or factories. Repair companies operating at these levels seek efficient, automated tools while ensuring the security of consumers' personal data throughout the repair process.
Piceasoft provides efficient solutions to enhance your mobile device repair services in various settings:
1. Repair Points: Utilize the PiceaServices point-of-sale applications at your repair points to deliver value-added services directly to consumers.
2. Across Mobile, Point-of-Sale, and Online Channels: If you aim to broaden your repair services beyond point-of-sale locations, the PiceaOnline platform offers a seamless option across mobile, point-of-sale, and online channels.
3. At Warehouses: Choose Picea® Volume to repair and refurbish multiple devices simultaneously, making it the optimal choice for efficient repair operations.
Identify the need for repair with Picea® Diagnostics
Help consumers with remote device diagnostics
When consumers face issues with devices, you can elevate the service experience by offering a user-friendly self-service option for immediate issue resolution.
Picea® Online is an all-in-one business platform to offer mobile device trade-in, support, and repair services across point-of-sale, e-commerce, and mobile channels. Utilizing the web-based PiceaOnline platform, you can enable consumers to initiate remote device diagnostics effortlessly through a link or QR code on your website, facilitating immediate solutions. This feature empowers you to offer prompt solutions and cost estimates for device repairs. Additionally, you can guide users to the nearest support point for further assistance.
If no fault is detected (NFF) on the device, customers may receive guidance, such as updating the device software.
Streamline device assessment at the service point
At the repair point, optimize the device repair process with a rapid and user-friendly assessment tool for shop personnel. Picea® Diagnostics offers fully automated and user-assisted test cases for mobile devices, enabling a comprehensive analysis in just 2 minutes. This efficiency reduces customer wait times.
You can generate a detailed report of the device condition test to facilitate clear communication about necessary repairs and provide a post-repair report to showcase restored functionality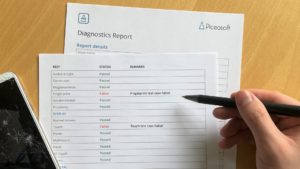 Diagnose device for upselling opportunities
You can also explore promotional opportunities by running device diagnostic tests for free to attract consumers to visit your service point. For instance, a battery test with Picea® Diagnostics can identify potential replacement needs and upselling opportunities. Alternatively, assess the condition of device displays, including touch panels, dead pixels, or the condition of different phone sensors.
Offer mobile device backup with Picea® Switch
To ensure minimal disruption when a consumer's device requires repair, offer a backup and restore service for the device content. Picea® Switch allows a smooth and fast transfer of content to a temporary loan device. Additionally, PiceaSwitch supports the backup and restoration of content from the consumer's device, for example, to a USB memory stick.
The backups are encrypted and password-protected to ensure that only the original customer's content is restored to the original device. The solution is easy to use for repair personnel as it provides the same user experience for every device, regardless of the device OS. Consumers, on the other hand, will not lose any important data.
Check device locks with Picea® Verify
Picea® Verify helps to eliminate the risk of dealing with locked phones, both in replacements and repairs. Detect accurately the mobile device make and model to ensure the right spare parts are being ordered for the device. When the device is sent off for repair, PiceaVerify helps to confirm the removal of all user accounts and locks, ensuring the device is ready for repair.
Ensure 100% secure content erasing with Picea® Eraser
To provide maximum protection for consumer data, device content can be erased in point-of-sales or care points when the device needs to be sent off to be repaired.
This can be done with the ADISA-certified Picea® Eraser to ensure all sensitive user content is permanently wiped from the device. A full audit trail for data erasure is available via reporting both for the consumer and the repair service personnel ensuring complete peace of mind for all stakeholders.
Automation and efficiency for repair factories with Picea® Volume
When devices are sent to workshops and factories, they typically process a large number of mobile devices. Picea® Volume is purposefully designed to efficiently manage multiple devices concurrently, streamlining the entire device handling process.
This solution contributes to time and effort savings by seamlessly integrating make-model recognition, device diagnostics, and an ADISA-certified content wipe into a unified user flow. Furthermore, a comprehensive audit trail is accessible through cloud-based reporting, ensuring transparency and accountability.
We are happy to work with you to find out how you can take your repair service to the next level and delight your customers throughout the device repair journey. Just describe your requirements in the Demo Request form to get in touch with us.
About Piceasoft
Located in Tampere, Finland, and founded in 2012, Piceasoft creates new business opportunities within the mobile devices' circular economy. Our ever-expanding platform and ecosystem powers companies at all levels to offer trade-in, support, repair, and recycling services. Working with customers and partners in over 70 countries, our platform provides a single solution for businesses to introduce new services and revenue streams while reducing e-waste and promoting sustainability.