Mobile devices today are indispensable. Devices are a significant part of consumers' lives. The necessity of mobile phones and the recent lack of availability due to the global shortage of device components has resulted in an increased desire to use current phones for longer. However, accidents do happen and devices get broken, also components can be faulty and need to be replaced. Whatever the issue, consumers want devices to be fixed as soon as possible.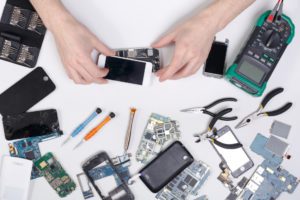 Expectations for the repair service
Mobile device repair companies are continuously thinking about how to develop consumer experience in all touchpoints and different repair levels. In levels 1 and 2, such as point-of-sale or repair points, consumers value the speed of repair the most, technical expertise, and good communication in customer service. Customer service personnel on these levels are not typically technical experts, so they need easy-to-use tools to identify and fix device issues and an easy way to justify the need for repair.
When more advanced repairs are needed, this usually requires workshops or factories to get involved. Again, consumers want a fast turnaround time and reliable resolution for the issue. Repair companies, operating at levels 3 and 4, look for efficient, automated, and reliable repair tools. In addition, consumers expect that their personal data is protected throughout the whole repair journey.
So as a repair company, you want to ensure you provide fast, efficient, and high-quality repairs for your customer's devices. But to delight the customers, you also want to go beyond the basic repair service and provide transparent communication and full visibility to the repair flow.
Piceasoft's solutions offer an efficient way to elevate your mobile device repair service!
Identify the need for repair with Picea® Diagnostics
Once a consumer comes to the repair point, Picea® Services Diagnostics offers a fast and easy way for repair shop personnel to check the device condition and identify the need for repair. With fully automated and user-assisted test cases, a mobile can be analysed in-depth within just 2-3 minutes per device. Quick device analysis means shorter wait times for your customers.
To build more trust and give clarity on the repair needs, you can generate a report of the device condition test that can help explain to the consumer what needs to be fixed. You can also generate the report after the repair to show that the device is fully functioning.
Depending on the case, you may also run a battery test with PiceaDiagnostics and offer additional services to check if the battery needs to be replaced soon. A free battery test may also be promoted to attract customers to visit your service point.
Alternatively, you may test the condition of the device display, for example, touch panel or dead pixels or condition of different phone sensors.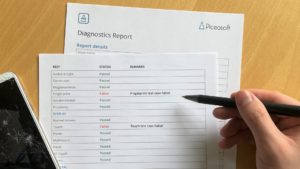 Offer mobile device backup with Picea® Switch
When a consumer's device needs to be sent or taken away for repair, you can minimize disruption by providing backup and restore service for the device content. Picea® Services Switch allows smooth and fast phone to phone content backup and restoration.  The backups are encrypted and password protected to ensure that only the original customer's content is restored to the original device. The solution is easy to use for repair personnel as it provides the same user experience for every device regardless of the device OS. Consumers on the other hand will not lose any important data.
In case you provide a loan device to your customer while their mobile device is being repaired, you can use PiceaSwitch to transfer personal content to a loan phone before the current phone is sent for repair. This great service will enhance customer experience and boost customer loyalty, which is then likely to bring them back to your repair stores when needed.
Ensure 100% secure content erasing with Picea® Eraser
To provide maximum protection for consumer data, device content can be erased in point-of-sales or care points when the device needs to be sent off to be repaired.  This can be done with the ADISA certified Picea Services Eraser to ensure all sensitive user content is permanently wiped from the device. A full audit trail for data erasure is available via reporting both for the consumer and the repair service personnel ensuring complete peace of mind for all stakeholders.
Automation and efficiency for repair factories with Picea® Volume
When devices are shipped to workshops and factories they typically process a large number of mobile devices. Picea® Services Volume is specifically designed to handle multiple devices simultaneously and to streamline the device handling process. The solution helps save time and effort by providing make-model recognition, device diagnostics, and ADISA certified content wipe in one single user flow. A full audit trail is also available through cloud-based reporting.
Start the repair journey online or at home
Many consumers book repair times online. To further reduce repair turnaround time and increase customer satisfaction, repair companies can have a QR code or link available on their websites. When your repair business has deployed Picea® Services Mobile or Picea® Services Online API, consumers can scan the QR code, and you can detect device information automatically before the device is brought in for repair.
To take your repair service even one step further, you can let consumers analyse the device condition by scanning the QR code while they are still at home. This information can be stored to the service request which helps you to plan the necessary repair actions already in advance. For example, you can get information on what is wrong with the device, or which spare parts need to be ordered to fix the issue.  Alternatively, if there is no fault found (NFF), the customer can be advised, for example, to update the device software.
We are happy to work with you to find out how you can take your repair service to the next level and delight your customers throughout the device repair journey. Just fill in the Demo Request form to get in touch.
To learn more visit:
Website
LinkedIn
Twitter
About Piceasoft Ltd
Piceasoft is a Finnish company, located in Tampere. Since it was founded in 2012, Piceasoft has created a unique set of software solutions to cover the whole lifecycle of mobile devices. These solutions create new business opportunities and enable a cost-efficient service for mobile operators and retail chains. Our innovative products are disrupting mobile device buyback, repair, and recycling business. Our software products are easy to use and offer added value to the end-user, which means better ROI and user satisfaction. In short, we promise to Simplify Your Mobile Life.