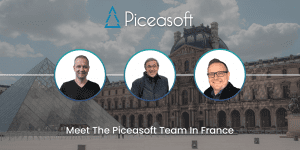 Piceasoft has been operating successfully in many European markets, and particularly in France where Piceasoft's business has been steadily growing over the past years. Piceasoft has a strong presence in France with a dedicated local sales and technical support team.
In addition, the global Piceasoft team is regularly visiting France to strengthen the existing customer relationships and ensure the continuation of the top-level dialogue with the French customers. Now there is a fantastic opportunity to meet Piceasoft CEO Mikko Pyykkö who is visiting customers in France in October.
Since 2017, Patrick Souhait, VP and General Manager of Piceasoft France, has been successfully driving Piceasoft's business in the French-speaking markets. The regional team has a strong business development team including Marina Baltyde and Zakaria Benrahal, who are based in Paris. The team also provides technical support to its customer base and keeps track of the local requirements.
Piceasoft provides mobile device lifecycle management solutions that create new service opportunities and costs savings for mobile operators and retailers as well as a trade-in, repair, and recycling companies. While Picea® Services point-of-sale solutions and Picea® Services Volume to process a large number of devices are widely being used by the French customers, the demand for its omnichannel solutions is on the rise specifically among the major electronic retailers and telecom operators.
"It is a vital part of Piceasoft's strategy to continue to be close to our customers. It always energizes and inspires me to spend time directly with our clients and partners, discuss their challenges and priorities and learn how we can continue to support them to excel in their business. We want to provide superior, industry-leading omnichannel solutions and experiences and make sure we constantly stay connected with customer needs. Hence these meetings have always been and will be on the top of my agenda, "says Mikko Pyykkö, Piceasoft CEO.
The CEO is accompanied by Sales Director Juha Röyskö, VP/General Manager of Piceasoft France Patrick Souhait and members of Piceasoft regional management. The team will meet customers in Paris during 11-15 October 2021.
If your company is interested in discussing how Piceasoft's solutions could help your business or if you want to meet with Piceasoft's executive team, contact your local team.
To learn more visit:
LinkedIn
Twitter
About Piceasoft Ltd
Piceasoft is a Finnish company, located in Tampere. Since it was founded in 2012, Piceasoft has created a unique set of software solutions to cover the whole lifecycle of mobile devices. These solutions create new business opportunities and enable a cost-efficient service for mobile operators and retail chains. Our innovative products are disrupting mobile device buyback, repair, and recycling business. Our software products are easy to use and offer added value to the end-user, which means better ROI and user satisfaction. In short, we promise to Simplify Your Mobile Life.