Consumers returning non-defective mobile devices for repair create a major challenge for mobile operators, retailers, and repair companies. Consumers perceive their mobile devices as faulty and bring them for repair, but once tested, nothing is found to be wrong with the devices. This is known as No Fault Found (NFF).
According to one of our device repair customers, up to 60-70% of smartphones received for repair are found as NFF. Think about the financial impact and costs of those processed devices!
Here's how Piceasoft can help you to prevent NFF repair cases in the first place.
Offer a self-service option for consumers
Any service breaks and time without a mobile device is inconvenient for the consumer. For many, self-services are the most convenient way to troubleshoot issues on their devices. Providing consumers with a simple and easy-to-use service flow to diagnose their device for example at home might be enough in many cases.
It may also be a case that a perceived fault in the device requires just a simple fix, such as a software update. Customer satisfaction and experience can be significantly increased when device issues can be immediately solved for the user.
By deploying Picea® Services Mobile your consumers can initiate the device diagnostics with their mobiles by clicking the link or scanning the QR code anywhere on your website. Once the remote evaluation flow is completed, they can receive an instant resolution to the issue.
If the device needs to be fixed, consumers can be given a repair cost estimation, or they can be guided to visit the nearest point-of-sale or repair point for additional support.
For an even faster and more efficient repair process, remote diagnostics information can be stored to the service request which helps to plan the necessary repair actions already in advance. For example, you can get information on what is wrong with the device, or which spare parts need to be ordered to fix the issue.
Enhance the in-store experience for repairs
When a consumer comes to the store to seek assistance, there are multiple ways to speed up the device diagnostics and increase the in-store customer experience.
PiceaMobile gets you set up easily and helps to engage your consumers. Rather than leaving your customers waiting for available staff to help, you may have a QR code somewhere in an in-store retail display highlighting the opportunity for the consumer to run device diagnostics. The results are then immediately available for the store personnel to give further assistance.
When your sales associates are equipped with tablets, they can also assist consumers by running the device diagnostics anywhere in the store.
Providing an immediate resolution to the consumer will greatly improve the customer experience and productivity of the personnel. This can help to reduce the amount of NFFs too as it is known right away what is wrong with the device.
When the device needs to be sent off for repair, the sales associate can ensure the device has no user accounts or device locks on. Piceasoft's Verify solution, available for omnichannel use cases, provides automatic checks to confirm the device is ready for repair.
You can further minimize the disruption for the consumer by providing device content backup to a network drive or USB memory stick and restoring the content to a loan device. Picea® Services Switch allows smooth and fast phone-to-phone content backup and restoration. ADISA certified Picea® Services Eraser can be used to securely erase device content.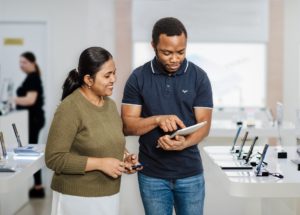 Knowing what's wrong with the device early in the customer journey will help to avoid No Fault Found (NFF) returns.
Depending on your needs, you can deploy Piceasoft's omnichannel device diagnostics on the website, on mobile, or at the point of sale.
PiceaMobile is designed for quick and easy deployment. The solution includes a user-friendly Product Management Console (PMC) that lets you select tests to run on the user's mobile for example remotely at home or on tablets in-store.
If wish to integrate device diagnostics into your current business process and want more customized web services, our PiceaOnline API might be the best option.
For value-added services in-store, look at our PiceaServices point-of-sale offering.
To inquire more information on how Piceasoft can help prevent NFF returns or to see a demo of our solutions, fill in the book a demo form to connect with us.
About Piceasoft Ltd
Piceasoft is a Finnish company, located in Tampere. Since it was founded in 2012, Piceasoft has created a unique set of software solutions to cover the whole lifecycle of mobile devices. These solutions create new business opportunities and enable a cost-efficient service for mobile operators and retail chains. Our innovative products are disrupting the mobile device buyback, repair, and recycling business. Our software products are easy to use and offer added value to the end-user, which means better ROI and user satisfaction. In short, we promise to Simplify Your Mobile Life.