Customer experience plays an essential role in the success of retail businesses. Mobile device trade-in programs provide a great way to introduce new services and revenue streams and enhance the customer experience while promoting sustainable values.
Consumers benefit by offsetting the cost of new devices and getting value from old mobiles by trading them for a new or refurbished device. Getting a voucher or store credit against the sold devices keeps consumers within your store for new revenue and upselling opportunities.
In addition, expanding the lifespan of old devices is also good for the environment and can support the sustainability goals of your business.
Customize your trade-in service according to your needs  
Picea® Online is an all-in-one platform for businesses that offer trade-in, insurance, or support & repair services for mobile devices and other consumer electronics.
This ready-to-use platform provides a complete solution for mobile network operators and retailers to quickly start a trade-in business or enrich existing trade-in services with optimized end-to-end processes and partner integrations. The PiceaOnline also fits well for companies wanting to improve the efficiency of buyback and trade-in services for their customers.
PiceaOnline gives you complete control to create and customize the in-store trade-in experience. With 24/7 real-time access to the configuration tool, you can easily manage and organize your store information and structure. The trade-in experience can be customized through workflows for the retail store network and individual stores. Highly targeted and localized trade-in campaigns are also dynamically managed via the tool.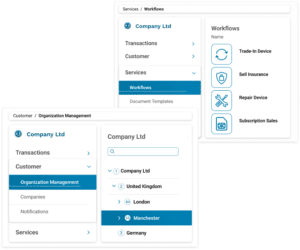 Delight consumers with immediate & guaranteed trade-in offers
The trade-in service flow provides automatic device detection using artificial intelligence (AI) and comprehensive condition analysis. This ensures accurate device identification (MMR), grading and reduces variance in the trade-in process. PiceaOnline also detects user accounts and locks and ensures the device is not lost or stolen before it is accepted for trade-in.
The trade-in values can be offered from your pricing catalog or through our trade-in partner ecosystem. So even if you don't have an existing trade-in partner, you can benefit from our trade-in partner integrations and preferred platform partnerships.
Consumer conversion can be optimized by offering the highest trade-in value through multiple vendors. The attractiveness of the trade-in offer can be further boosted by providing additional benefits through OEM or device-specific campaigns. The device grading is also flexible; you can apply your existing device grading criteria or create a new one.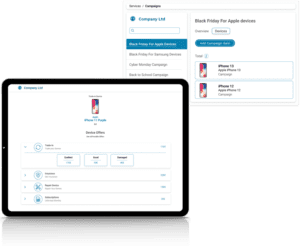 Improve customer experience & in-store productivity with a wireless solution
As a web-based solution, PiceaOnline empowers your retail sales associates to offer an enhanced trade-in experience. No investments in laptops are needed as your sales personnel can serve customers wherever in the store using tablets. This facilitates the service business integration into everyday sales actions.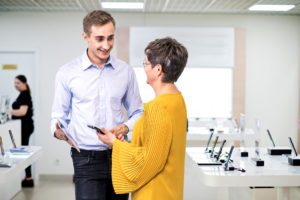 Once the trade-in offer is accepted, the trade-in transaction can be completed by your sales staff. Data can be transferred to a new device and securely erased from the old device. All trade-in transaction details can be pulled into your business systems for follow-up.
Easily expand to new business opportunities
Thanks to our all-in-one PiceaOnline platform, the in-store trade-in services can be easily expanded to mobile and e-commerce channels and offer self-support, device repair, and insurance sales. If you wish to extend your trade-in service beyond mobile devices, our platform supports other high-value consumer electronic devices, such as Apple laptops and smartwatches.
To discover more about how PiceaOnline can benefit your trade-in business and generate new revenue streams, visit the PiceaOnline page and book a demo to see how our platform can help your business grow.
About Piceasoft
Located in Tampere, Finland, and founded in 2012, Piceasoft creates new and scalable business opportunities within the mobile and consumer electronics circular economy. Our ever-expanding platform and ecosystem powers companies at all levels to offer trade-in, insurance, repair, and recycling services in less than 24 hours. Working with customers and partners in over 70 countries, our AI-driven platform provides a single solution for businesses to introduce new services and revenue streams while reducing e-waste and promoting sustainability.