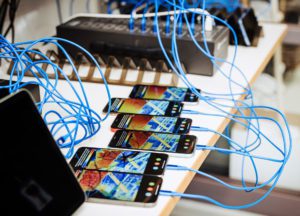 When used mobile devices are bought back via trade-in programs, the old devices end up at a device processing facility through which a phone is analyzed, repaired, refurbished, and resold back to the second-hand phone market. Companies processing a large number of used devices look for operational efficiency and ease of use.
In our earlier blog, we wrote about the ways how efficiency can be optimized at recycling hubs by using an efficient mobile device solution, such as Picea® Volume. PiceaVolume increases the efficiency of the mobile device recycling process and helps to save time and effort by processing multiple devices simultaneously with highly efficient workflows.
How do you get more done in less time?
The answer is to use a feature called Workflows. PiceaVolume provides make-model recognition, device diagnostics and secure content wipe in one user flow. This workflow can be configured and customized to meet your specific needs. You can define which device checks and diagnostics tests are performed and which erasing methods are used to securely erase the device content. This ensures that only necessary operations are performed for the devices, which helps to save time.
Manage settings centrally
Instead of managing and changing the device processing steps locally, PiceaVolume allows recycling center managers or admins to centrally manage and customize workflows from a single workstation. As an admin, you can configure the workflow through the ease-to-use Product Management Console (PMC).
Volume users can select and optimize each processing scenario from the pre-defined configurations. This makes device processing tasks faster and easier.
Choose preferred operations for each scenario
You can configure optimal workflows for each scenario or device batch. Verify within Volume ensures the devices can be reused by checking for active device locks, inserted SIM, or Memory cards and against GSMA Device Check™. You can choose which checks are being performed based on the device make and model or operating system.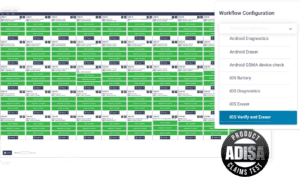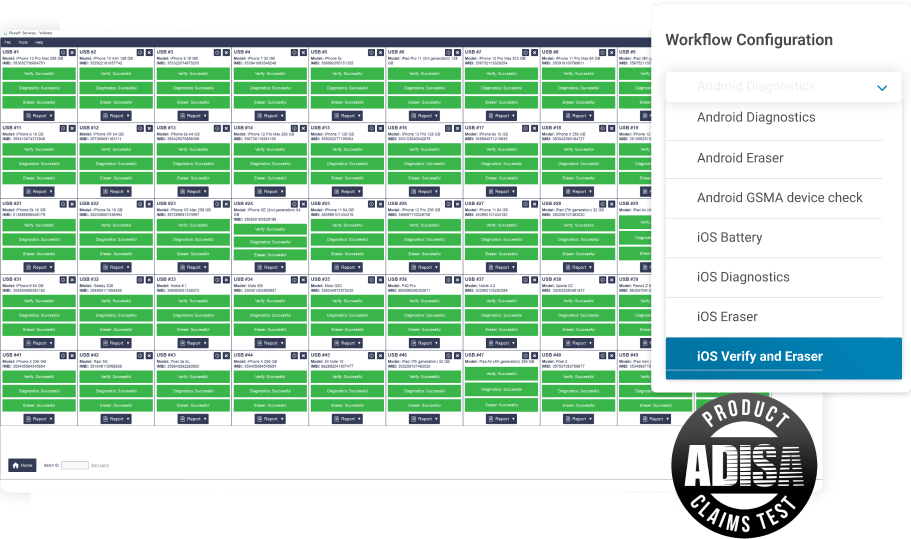 A similar option applies to the device diagnostics and secure data erasing. For example, you may want to diagnose the condition of certain phone models, but not erase their content. Or vice versa. You may want to erase the content of certain types of phones, but not diagnose the condition of those devices. Or you may want to perform certain test cases for certain phone models only or a limited number of tests for older mobile device models.  All this can be defined in Workflows.
Set the best test case order for device condition analysis
Diagnostics provides automatic and extensive mobile device testing, including device grading with minimum human interaction. It features fully automated, user-assisted test cases, and software analysis within 2-3 minutes per device.
You can change the order of test sets in Volume workflows to meet your own needs. For example, you can select which test sets are run in priority order especially in cases when you want tests to stop on failures.
Alternatively, you may want to give top priority to the battery test, for example, and run it first. This can be useful in cases when a battery is of poor quality. In this case, it makes no sense to run diagnostics tests at all, but rather send the device to have its battery changed. Once the device is returned from the service, you can use a specific configuration with selected test cases only to quickly verify the condition of the device.
Finally, you can ensure peace of mind by securely erasing the device content. You can choose the preferred erasing method separately for Android and iOS devices in Workflows.
Are you interested in deploying PiceaVolume and define optimal workflows to support your processes? If, so please contact us by filling in the Demo Request Form.
About Piceasoft Ltd
Located in Tampere, Finland, and founded in 2012, Piceasoft creates new and scalable business opportunities within the mobile and consumer electronics circular economy. Our ever-expanding platform and ecosystem powers companies at all levels to offer trade-in, insurance, repair, and recycling services in less than 24 hours. Working with customers and partners in over 70 countries, our AI-driven platform provides a single solution for businesses to introduce new services and revenue streams while reducing e-waste and promoting sustainability.