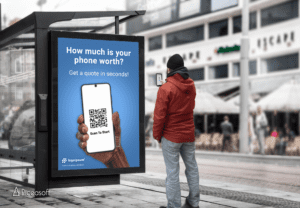 Today's mobile device consumers can choose from multiple service providers and mobile subscription plans. Mobile device trade-in programs are getting more popular, and consumers are increasingly interested in exchanging their old devices for newer models. Operators are responding to these needs with omnichannel trade-in and trade-up programs.
Picea® Services Mobile provides an innovative way to promote mobile device trade-ins and activate consumers to consider exchanging their devices for newer smartphone models anywhere and anytime. By leveraging PiceaMobile, operators can easily attract new customers, as well as increase retention.
PiceaMobile enables you to identify which operator's subscription consumers are using. When a consumer has a competitor's mobile plan, the operator has an opportunity to promote their offering as part of the trade-in service flow.
Traditionally, operators have preferred to use a phone number as an identification method for their consumers. Once a consumer starts a service on their mobile, it is also possible to ask for their mobile phone number or email address as part of the service flow. The identification information is stored in the Picea® Services Reporting database or in B2B customer's own systems that can be integrated with the Reporting API.
Assess the device remotely for the accurate trade-in valuation
Picea® Mobile provides a quick and straightforward way to create trade-in campaigns. Operators can create branded trade-in campaigns in just a few minutes using PiceaServices Product Management Console (PMC). This web-based portal is part of the PiceaMobile offering and allows operators to select which device identification and device condition checks are run on the consumer's mobile.
Once the operator has created the campaign, the service generates a link or QR code that can be added anywhere in the operator's marketing channels. The service flow can be fully branded to ensure the user experience on mobile is according to the operator's brand identity.
Consumers can check the trade-in offer by clicking the link or scanning the QR code with a mobile device. The device details can be automatically detected, and the device condition analysed within a few minutes. The consumer is then given a trade-in quotation based on accurate device conditions.
As part of the trade-in quotation, the consumer can also be given an attractive offer for the operator's mobile subscription.
You can also drive engagement by sending consumers their device diagnostics report or a trade-in offer over email. With our email template editor and PDF customization tools, you can make sure that your customers will know how to proceed even if they choose not to take your offer immediately.
Detect competitor's SIM card to offer switch
PiceaMobile supports device identification and allows operators to identify which operator's mobile subscription is on the user's phone. The information is available for the operator via PiceaReporting API, which can be used to create the offering for the mobile trade-in process and encourage consumers to switch their mobile plans.
Using PiceaMobile, operators can fully integrate trade-in and mobile subscription offers in a seamless omnichannel consumer experience. Reaching new customers via mobile campaigns can help to increase the subscriber base, upgrade the existing subscriber base, and result in higher revenues.
There are endless promotional opportunities that can be implemented to promote trade-ins and mobile subscription plans. Read more about the promotional opportunities that can be used with PiceaMobile from this blog.
Operators interested in benefiting from PiceaMobile to promote mobile device trade-ins and win new customers, fill in the demo request form to inquire for more information.
To learn more visit:
Piceasoft: www.piceasoft.com
LinkedIn: https://www.linkedin.com/company/piceasoft
Twitter: https://twitter.com/piceasoft
About Piceasoft Ltd
Piceasoft is a Finnish company, located in Tampere. Since it was founded in 2012, Piceasoft has created a unique set of software solutions to cover the whole lifecycle of mobile devices. These solutions create new business opportunities and enable a cost-efficient service for mobile operators and retail chains. Our innovative products are disrupting the mobile device buyback, repair, and recycling business. Our software products are easy to use and offer added value to the end-user, which means better ROI and user satisfaction. In short, we promise to Simplify Your Mobile Life.